William Knox in 1944

With an unidentified
shipmate in 1945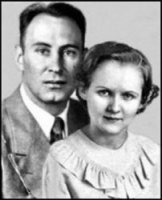 William and Rosemary Knox
Enlisted: 1944
Service: USNTS Great Lake, IL
NTS U of Chicago
Com Phibs. Tra. Pac ATB
Comdr, Air Support Units ATP
USS Appalachian and the USS Harry Lee.
Discharged: January, 1946.
We have been contacted by Rosanne Knox, daughter of our shipmate, William Herbert Knox. Rosanne informed us that her father had passed away on February 3, 1997 in Tucson, AZ.
William had enlisted in the Navy in 1944 and served aboard the Lee as a radioman, after first serving on the USS Appalachian. He was discharged in January, 1946.