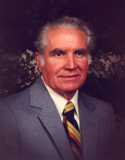 Gerald McDonald
3317 Kimbell Rd.
Terry, MS 39170
E-mail: bmcdonald2@jam.rr.com
October 1, 2011
Gerald James McDonald, 89, passed away on Thursday, July 20, 2011 at his home in Terry.
Mr. McDonald was born September 9, 1921 in Pittsburg, PA. Mr. McDonald was married to the late Edna Ella McDonald for over 50 years. He proudly served his country in the United States Navy during WWII and was stationed aboard the USS Harry Lee (APA-10). He was the owner of McDonald Machine Shop in Jackson before his retirement.
Survivors include his son, Bruce McDonald (Melanie); grandchildren, Steven McDonald (Dana), Josh McDonald, and James McDonald; great-grandchildren, Brennan McDonald, Matthew McDonald and Garrett McDonald; and nieces, Cathy Schaefer (Joe) and Cheryl Schnippert (Tom).