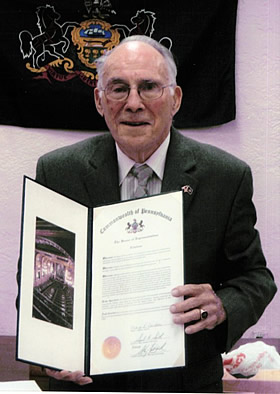 OBITUARY
WILLIAM M. "BILL" SMYRL, JR.
William M. Smyrl, Jr., age 97, of Havertown, PA, passed away on November 8, 2019. Born in Philadelphia, PA, he was the son of the late William M. Smyrl, Sr. and Emily Smyrl (nee Ledis).
William was a 1940 graduate of Lansdowne High School. He served in the United States Navy as a Motor Machinist's Mate 2nd Class during World War II. He was awarded a Purple Heart for wounds received at Tarawa in the South Pacific. He had been self-employed as a Dental Technician.
William was predeceased by his son, William M. Smyrl, III and his brother, Robert Smyrl. He is survived by his children Karen Terwilliger and Stephen Smyrl, his grandchildren Dan and Brian Terwilliger, Krista and William M. Smyrl, IV, Stephen T. Smyrl, Jr. and Madeline T. Smyrl, his great-grandchildren Violet and Ruby Terwilliger and his sister Ruth Langshaw.
Relatives and friends are invited to visit the family Saturday, November 16, 2019 3:00-3:30 PM at The Donohue Funeral Home, 8401 West Chester Pike (cor. Lynn Blvd.), Upper Darby, PA (610) 449-0300 and to his Funeral Service at 3:30 PM. Interment will be private.
In lieu of flowers, contributions in William's memory to the Charity of the Donor's Choice would be appreciated.