Dedicated to all who served aboard the USS Harry Lee

This website is dedicated to the officers and enlisted men
who served aboard the USS Harry Lee, APA-10,
an Assault Tranport during the Second World War.

The USS Harry Lee participated in seven (7) initial invasions:
the first on July 10, 1943, in the landing at Scoglitti, Sicily.
She returned to the States with German prisoners, who were units of "The Desert Fox" Rommel's
famed "Afrika Korps", which boarded in Mers El Kabir, North Africa. Soon after her arrival in the
States, the Lee was assigned to the Pacific theater, where she participated in six more invasions:
Tarawa, Gilbert Islands, 20 November 1943,
Kwajelein, Marshall Islands, 31 January 1944,
Aitape,New Guinea, 19 April 1944, Guam,
Marianas Islands, 21 July 1944,
Lingayen Gulf, Philippines, 7 January 1945, and
Iwo Jima, 19 February 1945.
After months of transferring and training, the Lee moved from islandto island in the months that followed. Then on 20 July 1945, she got underway for San Francisco, CA, proceeding independently, arriving 8 August 1945 - a great day - V.J. Day!

On 29 September, the long-awaited destination: Tokyo, Japan.
I would like to express thanks to Patrick Smith of Saxton, PA, Eugene McAndrews, Walter Ward,
Colby Hinton, Don Tracy, Bob McCarty, Jim Vannest, and to all others who have contributed to locating
and bringing together shipmates,and remembering those who have passed on.

Thank you, Pat, for that phone call I received from you that evening in 1992, initiating the reunionof those of us
who shared a great comradery onboard the USS Harry Lee. Your newsletters that we receive are a great
comfort for those of us who cannot physically get to meet each other in person.

Your friend and shipmate, Vince Saldutti, PhM/2C
I am very sorry to report that my dad, Vincent L.Saldutti, passed away on Wednesday morning, December 6, 2017.
We had celebrated his 98th birthday the previous Saturday, and we had enjoyed a very happy Thanksgiving. He was in good spirits and really enjoyed being with his grandchildren and
great-grandchildren. But he had been battling congestiveheart failure so his passing was
not a complete surprise.
Besides his family, one of his greatest joys was creating this website. He loved his days on the
Harry Lee, and he loved the shipmates that he served with. Many of his friends discovered the
site and contacted him by email. Hecherished each and every one of those contacts.
If you were one of the shipmates or family members who contacted us over the past twenty
years, thank you so much! Your messages, the information you provided, and the photos you
sent, brought great joy to Vince.
Jim Saldutti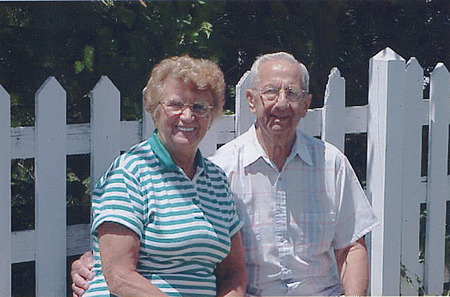 November 14, 2018
A photo of Shipmate Robert D. Heili has been sent to us by his son, Mike. The photo has be added to Robert's page. Thank you, Mike!
October 6, 2018
Dwayne Bartley, son of shipmate Charles Bartley, has sent us photos of a message received in 1943 pertaining to training exercise procedures in the Chesapeake Bay. Click HERE or on the link in the main menu.

September 24, 2018
We have been notified by our friend Glynna Morse via the USS Calvert 'Calversion' Newsletter that our shipmate Lou Byrne had passed away on April 28, 2018. Lou's obituary has been posted on his roster page. Our thoughts and prayers are with Bonnie and Lou's loving family.
August 8, 2018
We have been notified by our friend Glynna Morse via the USS Calvert 'Calversion' Newsletter that our shipmate Emery Parker had passed away on September 22, 2017. Emery's obituary has been posted on his roster page. Our thoughts and prayers are with Emery and Delores' wonderful family.
July 17, 2018
Sgt. Fred Ott, US Army, was aboard the Lee when it deployed to the Philippines. Fred's son, Calvin, provided information which is posted on Fred's page.
June 13, 2018
We have been notified by Mike Heili, son of Shipmate Robert D. Heili, that Robert had served aboard the Lee for all 7 invasions. Robert's page has been added to the Roster.
June 6, 2018
Our good friend Dwayne Bartley has sent a photo of his father, which has been added to Charles' page. Dwayne would love to hear from any Lee shipmates or their families. Dwayne can be contacted by email at dwayne_bartley@hotmail.com

June 6, 2018
Dwayne Bartley has also sent photos of a 1944 War Ballot completed by Shipmate Michael Bauderer. The photos can found on Michael's page.

Other News About Our
Shipmates Can Be Found On
The News Page.
Items of Interest to Our
Shipmates and Their Families
Can Be Found On
The Bulletin Board Page.